Originally published by David Coale.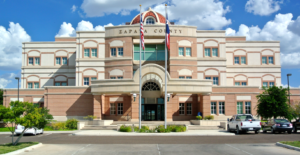 Problems in the construction of the Zapata County courthouse (right) led to litigation between S&P (the general contractor), and its subcontractors, as well as between S&P and its insurer. The insurer and S&P disputed S&P's allocation of the proceeds from settlements with the subcontractors, and the Fifth Circuit affirmed judgment for the insurer: "S&P bears the burden to show that the subcontractor settlement proceeds were properly allocated to either covered or noncovered damages. If S&P cannot meet that burden, under the [two controlling cases], then we must assume that all of the settlement proceeds went first to satisfy the covered damages under U.S. Fire's policy." Satterfield & Pontikes Constr. v. U.S. Fire Ins. Co., No. 17-20513 (Aug. 2, 2018).
Curated by Texas Bar Today. Follow us on Twitter @texasbartoday.
Original author: David Coale